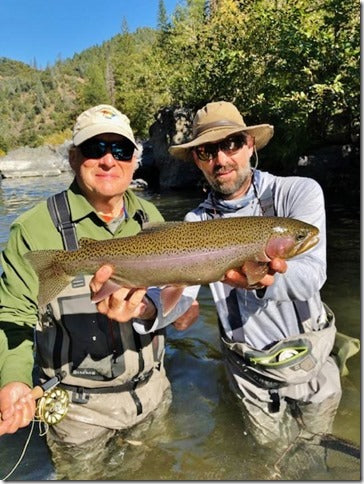 Rick Cox Reports on 10.16.2019

Well kids we are right in the middle of another great Fall season here in the north state. Our guides are in full throttle mode covering the McCloud, Upper Sacramento and Klamath Rivers chasing and finding some awesome fishing. The McCloud River has been giving up some beautiful bows and brownies producing big smiles from our satisfied customers. You can currently find the fish taking both nymphs and dries. The October Caddis are out and about in the mornings and late afternoon. The fish are just starting to key in on them and it will only get better as we get deeper into October and early November. An outing yesterday found top feeders almost all day grabbing Stimmies, Chubby's and Adams. The Upper Sac has also been fishing great. Mornings are cold and the fishing has been on the slow side but as the afternoon kicks in the fish have been very grabby. Here too the October Caddis are making a showing particularly from Gibson up to Ney Springs. Our outings have had more success recently nymphing but the fish should be getting tickled enough any time soon by these big caddis and start thinking about these USDA choice morsels. Lots of smaller Caddis out too so think Poopahs as a go to nymph. Up on the Klamath we are seeing an outstanding return of half pounders. We have been covering the river from Happy Camp up to Iron Gate Dam and finding sizable half pounders and a few adults sprinkled in.
Will all these opportunities presenting themselves my recommendation is you folks get up here now before the train leaves the station and another great Fall season has slipped by. Give us a call and we can get you setup with one of our many Wild Waters Fly Fishing guides for a fun day on the river.
Continue reading