Central Valley Fly Fishing Report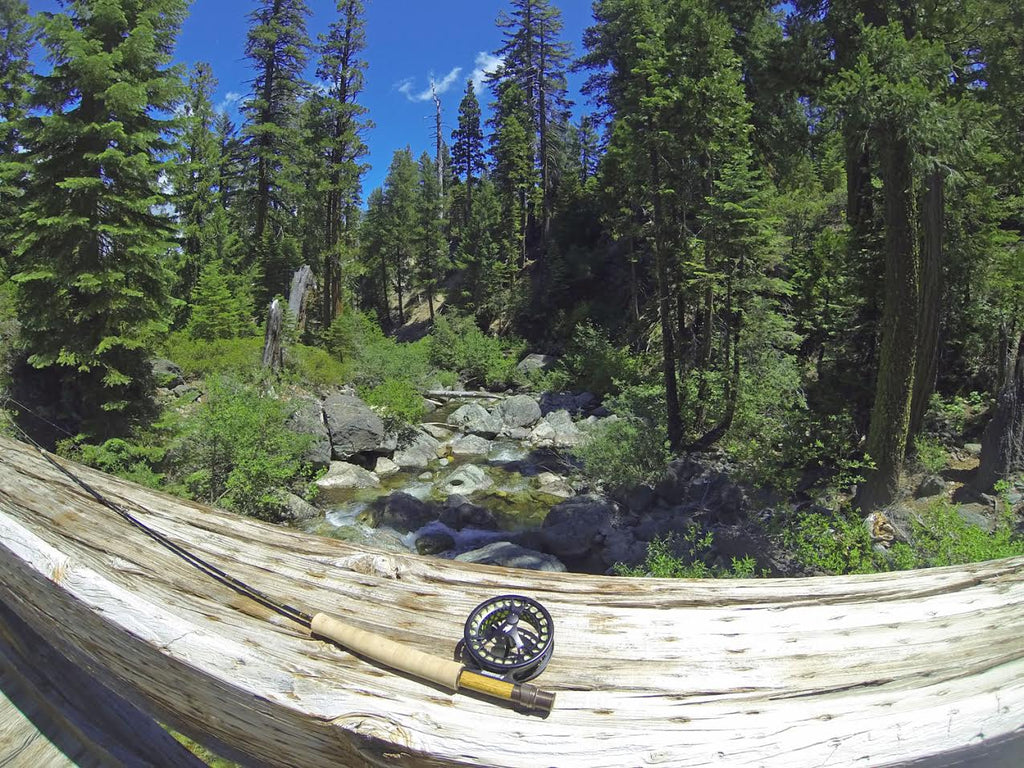 As a guide and a fly angler in Eastern Plumas National Forest, it's all about keeping close tabs on the surrounding waters and when to switch gears. Now that Lake Davis Surface temperatures are at 73, and the Middle Fork Feather River is in the upper 60's with growing rock snot, it's time to go to where the cold water is – The creeks of the Lost Sierra and the upper watershed of the North Fork Yuba River. I actually look forward to this time of year, as do my guests, the diehard small water junkies. In the last four years I have noticed many more fly anglers are drawn to the simplicity of the creek trips with me. Less pressure, unbound beauty, dry flies, 0 to 3 weight rods, wild critters, and raw adventure. If you really enjoy fly fishing, you'll have a great time boulder hopping your way upstream among the pocket water while stalking shy and elusive trout. The creeks around the Graeagle area are in prime shape right now and the fishing is very good. Water levels are right about where they should be for this time of year. Water temperatures are 57 in the morning, rising to 61 in the afternoon. Most of my guests do not realize how gnarly navigating some of the creeks are in the Lost Sierra and the watersheds with a steep descending gradient is hard work while making your way upstream.
The older you are, the more prepared one has to be, and many of the serious creekin' warriors will often train at the gym (now the home gym thanks to covid) just so they can enjoy the day. Fueling your body every few hours and staying hydrated is just as important as being in good physical shape. Training for fishing? Yeah, it's needed if you really want to be at the next level of maximum performance. You won't find prolific hatches on the creeks like the Middle Fork Feather River, but mostly caddis flies, a few stone flies, and the occasional mayfly like the chocolate dun. The wild trout that inhabit these waters have a very short feeding season, so they are very eager to most anything you offer them. Terrestrials will become very important in the next few months, namely ants, hoppers, and beetles. Reading water correctly and presentation is by far more effective than the latest and greatest fly. Your leader set up and rigging is fairly easy for creekin', but the length is really important when it comes to shorter rods. I first take a factory 7.5 foot mono tapered leader to 5x and cut the last 36" or so off (where it starts the transition to a thicker diameter). I'll then attach a 2mm tippet ring, and then reattach 24 to 36" of 5x tippet. That way you're only replacing the last section of level 5x tippet throughout the season. I never go lighter than 5x either due to the fish being so eager and not leader shy, plus it takes the abuse of hitting rocks and streamside vegetation so much better than 6 or 7x. For rods less than 7.5 feet, chop off a foot of the butt section on the leader.
Here are a few tips that will keep you in the game and be more successful while plying the creeks:
1) Keep your fly as dry as possible when making surface presentations. This includes false casting more, blotting the water from your fly with an absorbent cloth, then using your shake and bake desiccant. Those trout like it high and dry! Also when walking from spot to spot, don't drag your dry fly though the water. Take care of it like a newborn child. Lastly, treat your fly as if you're managing a hockey team. When your player is tired (sinking frequently) put it on the bench (your fly patch), and put in a fresh player (tie a new fly on).
2) You got to be quick with the hook set. At the same time, once you hook into a little one, you must back off on the power and follow through or you will launch it to another universe. Be careful when you go back to fishing for larger tout, especially big brown trout as they ingest your dry fly so much slower. Quick hook sets will not work with them.
3) Often the bigger fish will be in a small pocket or a slot next to the side of the creek. They prefer their own private lie. I look for dark water with depth, not matter how small it is. Pin point accuracy is often needed for the nooks and crannies.
4) A wading staff is a must no matter your age. I always think I can get away without using one, but in the end you'll be much safer if you use one. The third leg is the missing link…
5) Use good wading boots with ankle support that are thickly padded. I use my regular wading boots with neoprene socks, and for good reason. You'll be wedging your feet in between cracks both below and above water on dry rocks. Those skimpy creek shoes that most companies make will not cut it in the watersheds of the Northern Sierra. You need something hardy and durable. You'll also want studs and not the smooth kind, but studs that have a roughed up surface to adhere to dry granite and basalt rock.
Town has been busy with folks, like way too many. Campgrounds are full and the roads and highways are buzzing with traffic. Even so, on our last couple of creek trips we saw no other anglers, the further you hike away from the access points, the more solitude one finds, with better fishing.
See you in the land of canyon water…