Lower Yuba Fly Fishing Report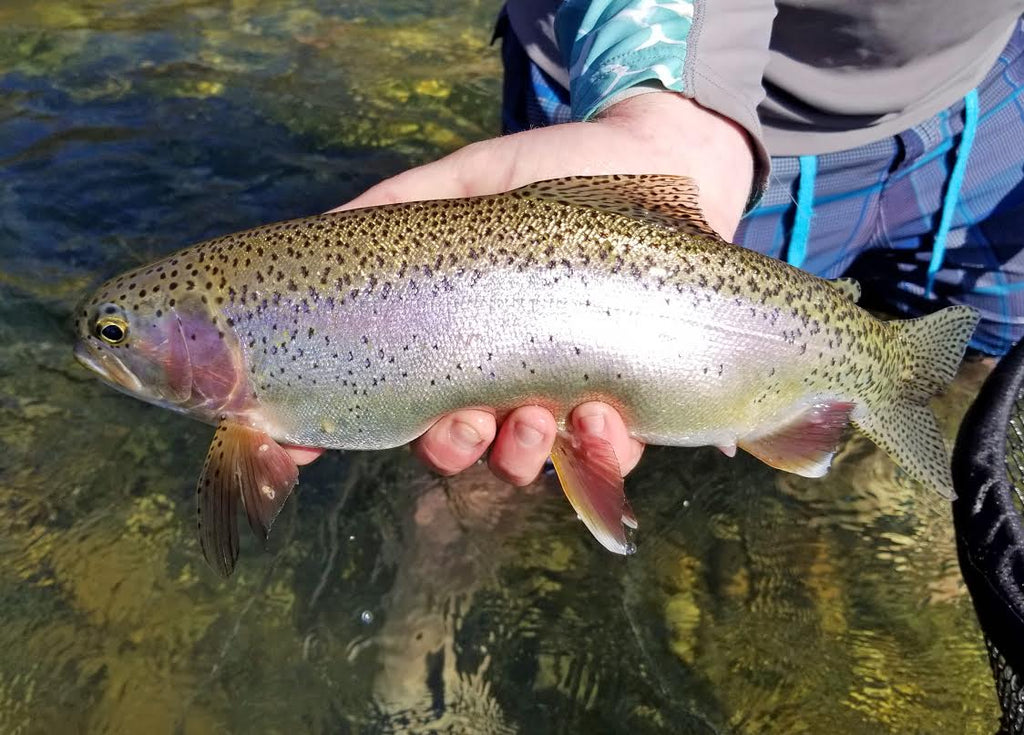 Jon Baiocchi Reports on 3.4.20
Wow, what a busy couple of months it has been. Business has been out of control, and I'm still not caught up in the office! First off, let's talk about our weather and the dry spell of the extremely warm temperatures we've been experiencing. It has been Spring in February on the Yuba River, and there are lupine and poppies blooming, and the Pipevine swallowtail butterfly has been out. All signs that Spring is truly here. Now that we are into the month of March it seems things may be changing. We have a chance of good precipitation through the weekend, and the models suggest a pattern change starting early in the month of March where a trough will set up off the California coast. That could change as well. You just never know with our weather these days, it's kind of like a watch and wait scenario.
The Lower Yuba River flows have been stable running right around 970 cubes, stable is a key word as the homes of the trout do not change much. Fishing pressure has been high, especially on the weekends. Overall, fishing remains to be good but you got to be smart about your presentations and put in the work. Last week, Cat Toy and I floated the river with Brian Clemens on a guided trip and did really well. As always, if you want bigger numbers of fish, floating with a good knowledgeable guide will do just that as you are covering miles of the river. We got most of our fish on indo rigs with multiple rubber leg stones, Hogan's Red Headed Step Child, and PMD nymphs (Military Mays in rusty brown). Drag free drifts are everything when it comes to being successful on the Yuba River, wet or dry. The rainbows right now are so chunky and fat from gorging themselves on the Skwala stones. These fish are so pristine, hard fighting, and absolutely beautiful. The Yuba River is a very special place.
So the Skwalas are still going, but I'm starting to see more spent adults in the side water. Because of the nice weather we've been experiencing, I've been seeing fish eating the Skwalas off the surface as early as 11am. Last week I finally saw a couple dozen true March Brown mayflies (not the larger Brown Dun, Amelitus, that everybody is getting confused with) coming off around 1pm. They are a size 14 and are hatching downstream of fast riffles. Being that they are from the clinger family of mayflies, there habitat as a nymph is in the very fast riffles, seek those areas of the river out. The mayfly hatches overall have been pretty slim in the past few weeks. I see more of them upstream of the bridge, especially around the UC Davis property and upstream, then down below the bridge towards Sycamore Ranch. A bigger PMD in a size 14 is out, BWOs in a size 18, and still a few of the larger brown duns in a size 10. I did see some rusty PMD spinners on the float last week near the Aquarium section with a few fish eating the spent females after ovipositing. The fish have been pretty wise when it comes to artificial imitations, and some of them are uncatchable. Just a few important tips when it comes to fishing the skwala adult or other aquatic adults (dry flies):
A downstream fly first presentation is super important using a reach cast, or a bump feed.

Don't beat the water over and over, cast less, observe more, and make your casts count. Rest the water if the trout are being selective.

Change patterns often.