Lower Sacramento Trout Fly Fishing Report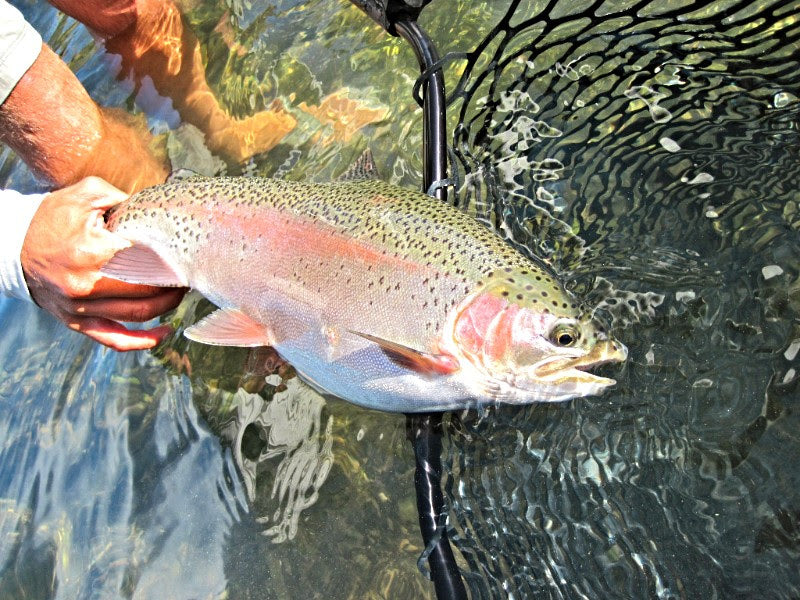 The mornings in Northern California are feeling more crisp and the days are getting noticeably shorter ... I'm certain that we still have a few hot summer days ahead, but fall season is beginning to creep in with each passing week. It's been a busy couple of weeks and I have been all over the place fishing the Upper Sac, Lower Sac, Fall River, Pit River, Hat Creek and even a little time on the Trinity. There is so much to choose from right now it makes the daily decision that much more difficult. Everything is fishing well.
I'll focus a report on the Lower Sac- It's fishing good, but not great or easy by any means. Bottom line is this – if you spend a lot of time on it and know the river you will hook some fish. The local guides that have their finger on the pulse by spending a few days a week on this river are getting a few nice fish consistently, maybe not in the numbers that we see during prime-time periods. Some days are more difficult and then one day everything lines up and it is pretty damn good… it's fishing!
September is always one of those tweener times. The caddis hatches may not be as thick as they were in July/August … and the egg drop in October is still a few weeks away. The river has been pretty quiet and un-crowded so that is always a bonus! Flows are slightly lower around 9k (was 10-11K all summer) and I'm noticing a lot more moss on the flies if you're dragging bottom.
Timing is important. Some sections seem to fishing better early in the day while the upper river is usually better late morning/afternoon and then again in the evening time. The lower river (I live in Redding, so the Lower River is below Anderson, lol) seems to be best in the early morning through about 2pm, then again later when the sun gets lower.
Bugs to have in your box… caddis! The usually suspects: tan or brown Bird's Nest, Gordon Prince, Cinnamon Fox Poopah, tan Silvey's caddis Bubbleback & LaFontaine style Lower Sac caddis. Sized to match the bugs you see which are all sizes right now #16 - #12. There can also be some prolific bwo'sh mayflies coming off in the evening time and then a spinnerfall of these bugs in the early A.M. The fish are chowing on both of these events, sparse brown and rusty mayfly patterns… Hogan's S&M and Lance's X-May.
If you are still reading this then I have your attention… there may be some cool stuff shaping up at mid to end of the September. We are seeing decent fall run salmon showing up and the boys in the Barge Hole and downriver are getting them. Some of these fish are big and bright, including one 32lbr. We should see more steelhead showing up along with more salmon. There are other local rivers with steelhead arriving, too. I have few open due to cancellations this month… September 18, 23, 24, 25 give a shout.