Puget Sound Fly Fishing Report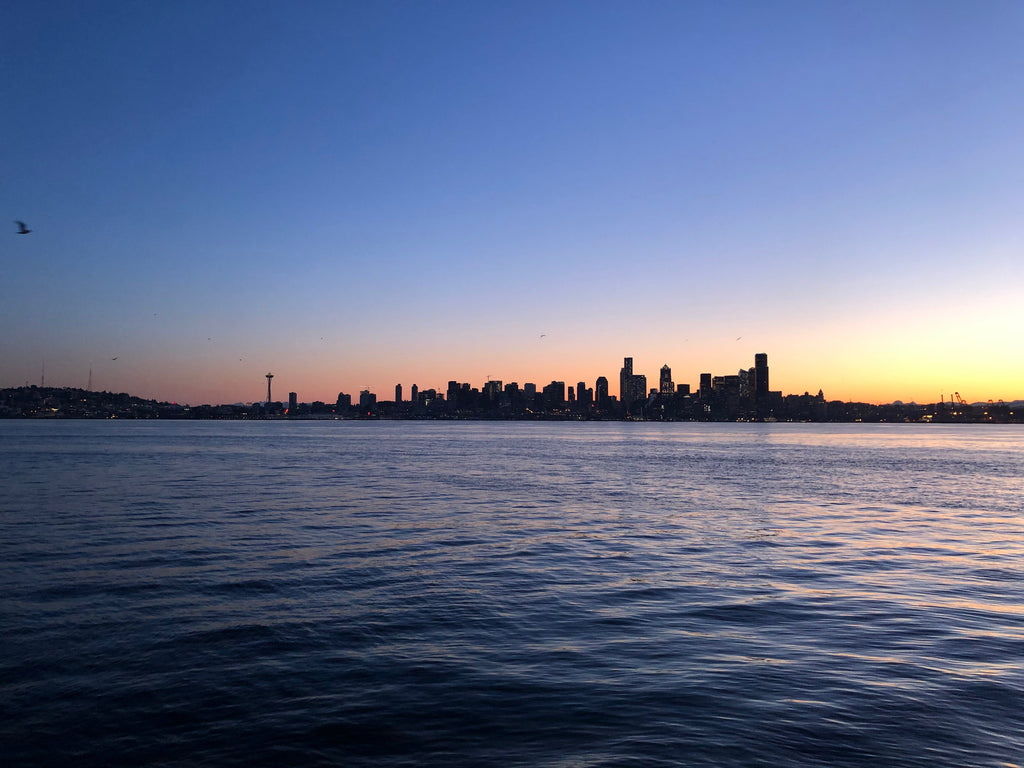 John Mullenholz Reports on 3.4.20
Sight fishing, bright pink shrimp patterns, crystal clear saltwater… and anadromous salmonids covered in sea lice, making acrobatic leaps against the backdrop of the Seattle cityscape at dawn? Yes, please!
I've always liked Seattle—something about the "it's rainy all the time here and we love it" attitude has always charmed me. And, I've always heard rumors about the city's incredible access to good fishing, but it wasn't until last month that I knew just how close and just how good the fly fishing can be just a few miles from the space needle. 
I was in town for business in mid-February when my schedule opened up just enough to allow for a morning fishing trip on Puget Sound with former LCO employee and owner of Tailout Anglers—a Seattle-based guide service—Brett Wedeking. 
A native of greater-Seattle, Brett started fishing the Sound in his high school days, targeting the same native and wild species that he still targets today: Coastal Cutthroat. He began on foot patrol, learning the intricacies of Puget Sound beaches through years of hard work. These days he guides out of a 17' boat, complete with a top of the line trolling motor for stealthy approaches and holding in place when the bite is good. "Some of my favorite spots have a current that acts like a river, with water flowing over boulders and shelves and the trolling motor allows me to position the boat to cover the water effectively," says Brett.
"Experimental" was the word Brett used to describe our fishing trip on a rare sunny and calm day in mid-February, when we could see the snow-capped Olympic range to the West and a snowy Mt. Rainer to the East. The bite was good enough after about an hour of fishing—with several fish hooked and released—I'd already made up my mind to come back in warmer weather months to see what the fishery is capable of at its peak.
Brett says his favorite time to fish the Sound is during the warm weather months: From late early April until early November in most years—though other areas of Puget Sound fish excellent all winter the weather conditions can be challenging. "I love the early mornings and long daylight hours of summer, the consistent conditions and consistent fishing. And fall is an extraordinary time to be on the water when fat, aggressive trout abound. Salmon bycatch is always a bonus too, when targeting cutthroat," he says. 
Locals who fish the Sound regularly hook cutts that tape 20" or more every year, and we found fish from 10" to 17" on shrimp and small baitfish patterns—including a sculpin fly that would catch trout in most California streams—all hard-fighting, bright fish, covered in sea lice. And though targeting cutthroat, we found ourselves with a few blackmouth (resident chinook) to hand—a welcome treat. 
We saw and heard some fish boiling or feeding near the surface, and casting at those fish often resulted in a bent 6-weight. It was a type of visual fishing that I'd never experienced before: You could see that a fish was under the surface, but you never actually saw the fish until it came to hand, although I'm sure the juvenile bald eagles hovering above our boat could see them just fine underwater. Brett says that due to the clear water, you often can see marauding fish chase down your fly as you strip it along: "One of the coolest things in fishing is seeing a cutty peel out from behind a rock and ravage your fly."
Whether you're in Seattle for work or for fun, if you find yourself with some free time in Seattle, Brett launches his boat from a ramp that's 15-minutes from downtown Seattle and he'd love to show you how good the fishing can be right in Seattle's backyard. You can reach him through his website at www.tailoutanglers.com