Northern California Fly Fishing Report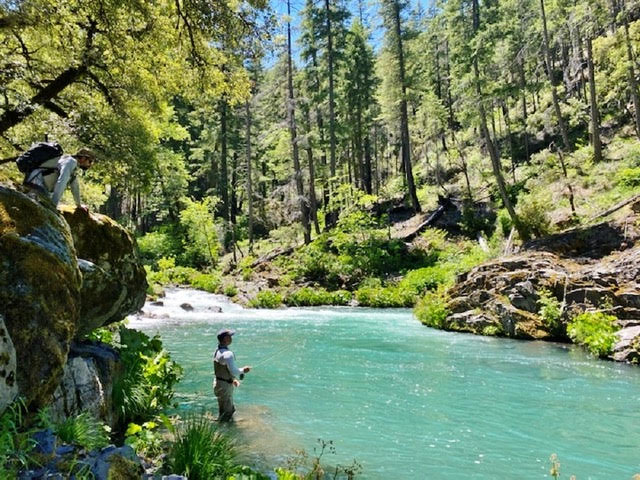 The McCloud River has been fishing great! With The Nature Conservancy and Ah Di Nah open now life is good. Conditions currently are perfect with top and bottom action happening, what more could we ask for. Expect to see folks out on the water but you can usually just move on a bit and find your own personal piece of heaven to fish on this  magical river. Our guides have been on the river a lot and have had very successful days with happy clients. This is one of my favorite times to be fishing here. You will be seeing a  wide variety of Mayflies and Caddis along with the Golden Stones. The stones are thick late afternoon and evening so it's big Chubby or Stimmie time. Nymphing is always a solid bet too so I recommend using a double fly setup with copious amounts of weight. Golden Stone nymphs and rubber legs are a good choice for top fly and then your favorite size 14 
or 16 nymph dropped off either. We recommend for you tiers that you try the stone fly pattern tied by our own Jason Kash recently featured in CA Fly Fisher.
Dry/dropper has been effective all day with the best top action in the late afternoon when the shadows the hold. We are currently structuring days to accommodate this late evening thrill so you might think about a late start and late finish with one of our excellent guides. 
Upper Sacramento River
The river has been fishing very good and should remain so. We are still seeing some snow melt but flows are very reasonable with cold water … a perfect recipe. 
Sims F
lat
 campground is open but not Castle Crags campground. Dunsmuir has limited motels open and the Brewery is offering sit down with the pizza and Mexican restaurants open for takeout. Good news too is The Ted Fay Fly Shop is open for business. 
Dry fly fishing has been best in the evenings with nymphing very consistent during the day. We are seeing Golden Stones, Sallies, Pink PMD's and small caddis.  Dry/dropper also has shown success in the heavier faster moving water. Succ
essful nymphs have been soft hackles, S&M's and Frenchies.
In conclusion this has been a stressful time for all of us. This area has had very few cases of COVID-19 but as people arrive for their summer fun we are starting to see an increase in new cases. Our healthcare community is very small and although we have excellent health workers and facilities they cannot handle a large increase in case loads. We ask all of you who are coming in to this area to please don't let your guard down and continue to practice good COVID protocol. This whole pandemic has a long way to go before normalcy returns.