Eastern Sierra Fly Fishing Report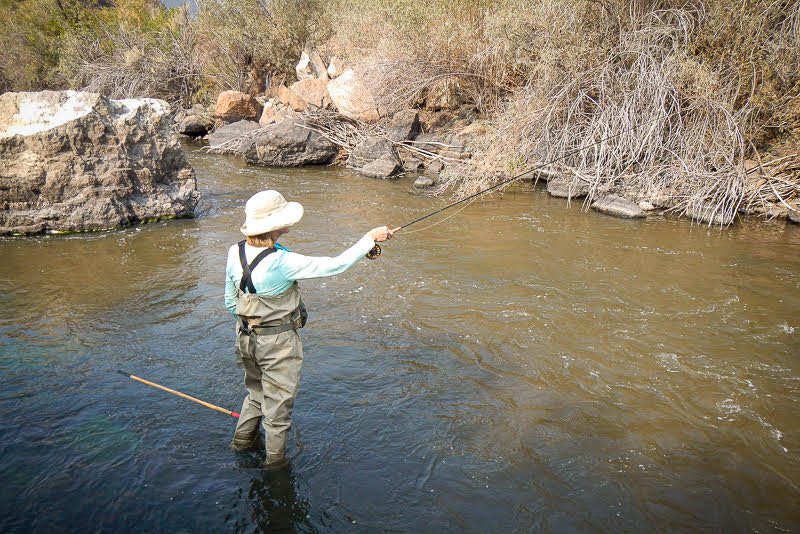 Jim Stimson Reports on 9.30.20
Thank you firefighters! 
The Inyo National Forest remains closed until a revaluation of conditions occurs on October 8th, hence, any fishing on USFS land is prohibited. This goes for any activity: fishing, hiking, biking, sight seeing, etc….Until the extreme fire conditions (heat, wind, drought, not enough fire fighting personnel) disappear, expect and respect the temporary closures. This means no campfires, no campfires, no campfires! Each day is a nail biter with local residents poised and ready to evacuate as the Creek Fire burns out of control just 15 miles from Mammoth Lakes. Mono and Inyo Counties are requiring the use of face masks with the pandemic. Please respect local businesses, each other, and be good stewards of the land. Thank you!

East Walker
The flows are in the low sixties along with the water temperatures. The fishing now is tough. The Bridgeport Reservoir is very low from the drought winter and is kicking a lot of mud and algae into the river, meaning, the water is off color. The bigger fish are hunkered down and tight lipped. There are trout to be had but it is a grind-a-thon. Keep in mind it is fun being on the water and whiling away the hours. The fishing will eventually improve!
West Walker

I believe the West Walker has reopened (it flows thru a different National Forest). That said, having recently driven thru the canyon the conditions are low, boney, and clear. Seek out the deeper, longer runs and go into stealth mode as the water is gin clear. Walk quietly as you approach the river, maintain a low profile, use a longer rod, and wear some camo. Think invisible.
San Joaquin
Closed
Hot Creek
Closed
Upper Owens River
Well heh! Looky here! There is something that is actually open, flowing, and has trout. 
The flows sit at about 60 cfs high in the river system. Once Hot Creek dumps into the mid-section the flows are closer to 90 cfs. There are some big fish beginning their journey back into the river system from the reservoir. Be patient and persistent….. dredge those deeper, slower buckets and you may get rewarded with a bruiser. You can get some top water action with elk haired caddis and tricos, but generally for smaller trout. I have had the best success nymphing with small pheasant tail or a soft hackled flies. 
Lower Owens River
The river is raging along at roughly 438 cfs. Beware of the high water levels, do not even think about wading across the river unless you enjoy swimming down the Owens Valley.
Get out there! You cannot catch fish if your line isn't in the water. Stay safe!