Northern Sierra Fly Fishing Report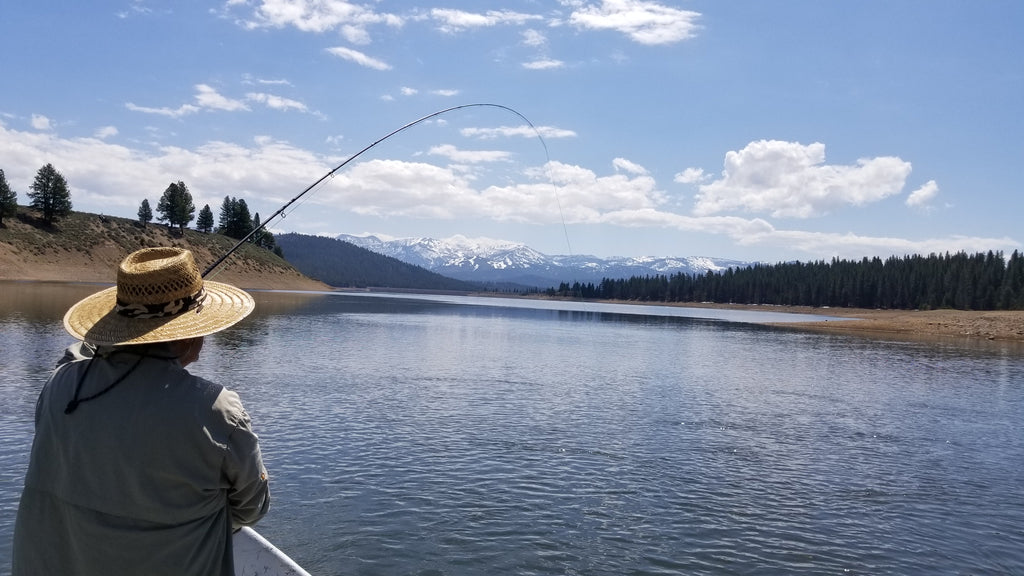 Jon Baiocchi reports on 6.14.19
The phone has been ringing of the hook the last couple of weeks and folks are itching to get out and fish, unfortunately, prime time is still a ways off for great trout fishing. I will can tell you this, we will experience really good fishing from July until late fall, and the dog days of summer might not even happen. For people who do not live in or near the Northern Sierra it is difficult for them to understand just how much snow is still up high and that it all still has to melt. Water agencies, law enforcement, and counties have been issuing warnings on recreation in or near rivers, and even closing some off totally to the public. Here is the scoop on waters I have been scouting, fishing, and guiding on:
North Fork Yuba River -  Flows are ripping especially near the top of the watershed where the river channel is narrower. Water temps are in the high 40's. I won't even begin to get serious about fishing/guiding here until the 2nd week of July. The upside is we will have a great mid summer and fall season here.
Middle Fork Feather River – out of all the rivers, the Middle Feather is the lowest, and with more fishable water. Graeagle area has been best, just remember the flows increase as you move downstream of Jamison creek. Fishing has been good with both indicator rigs, and limited dry fly sessions. Gray Drakes, BWOs, and caddis are active. Now is the time to fish the MFFR, once flows drop in the upper watershed, the bigger fish move downstream into the canyon.
Lake Davis – The lake is at full pool which I dislike, there are minimal peninsulas and coves, and lots of willows in the water (great habitat for the bass though, if you're into that sort of thing). Established weed beds are deep, and the shallows will take a while to become fertile with bug populations and weeds. Damsels are not out yet, but there are Calibaetis and blood midges out. Water temps are right around 63 degrees. I will know more next week as I'm hosting a 3 day fish out for Gold Country Fly Fishers.
Frenchman Lake – I do like Frenchman at a fuller pool unlike Lake Davis. Conditions were good a month ago, but now are poor. I would focus on the north end of the lake early in the morning, then mid-day switch to a break away indicator 20 to 25 feet down with blood midge pupa or (hint) Zebra Midge. Frenchman's biggest bug populations are chironomids and Calibaetis mayflies. Look for much better conditions this coming fall on both stillwaters as more trout will be planted and lower lake levels.
Truckee Area – The flows have come down on the Big Truckee a little bit, but still big. It will continue to be a yo yo effect with flow levels due to so many contributing factors like air temps that effect the melt, releases from dams, and inflows from tributaries. Yeah, there are some hatches out, but those fish are not looking up. One tactic you can implement is to fish accurate size and profiles of those nymphs active under the water's surface. Bob Quigley's Green Drake nymph would be a prime example.
Your best bet right now is fishing Prosser, Stampede, and Boca reservoirs. Fish where the inflows coming in and beyond the last riffle by about 200 yards. There are dry fly opportunities as well. Indicators rigs, slow stripping intermediate lines, and dry/droppers rigs are all productive. Be patient, conditions will change for the better in a month or so. See you out there!