Lower Yuba River Fly Fishing Report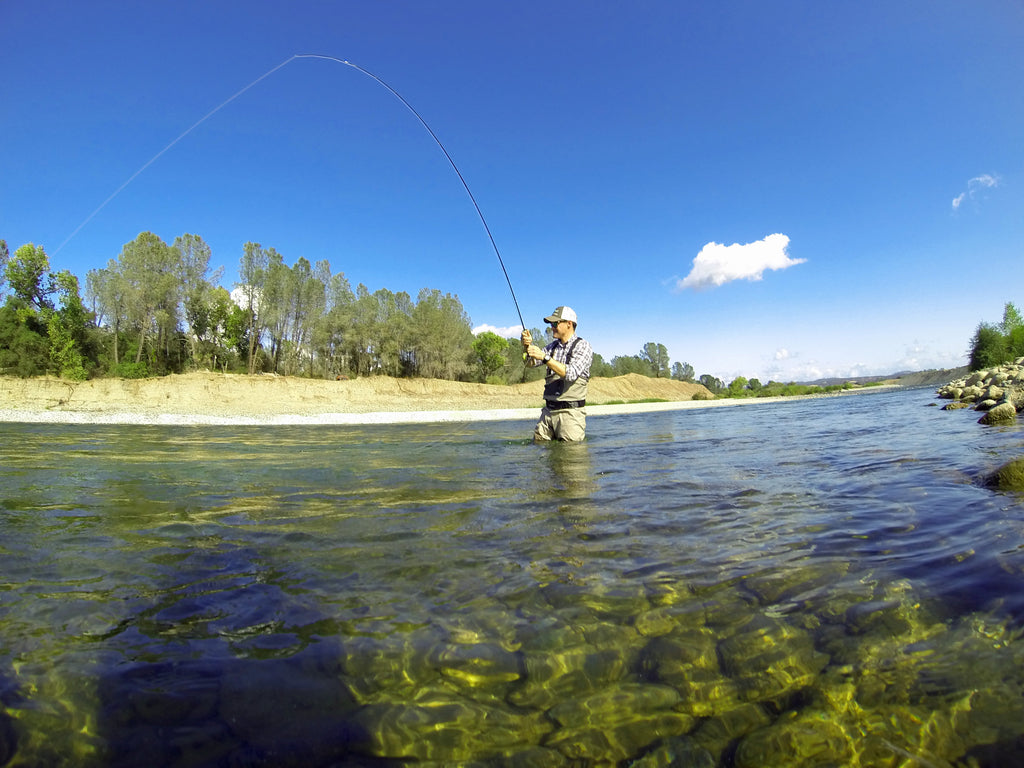 Jon Baiocchi Reports on 9.30.2019
Lower Yuba River Report
It's been since the first week of February since I've guided/fished on the Lower Yuba River. Remember how it started pouring rain back then and never let up until late May. There were some pretty big flows during that deluge as well, enough to move around the cobblestones and gravel, and once again change the runs and riffles ever so slightly. That's the Yuba River, always changing. The flows are bouncing around between 1,165 and 1,130 cubes which are very good for both walk and wade anglers, and drifters. Fishing pressure overall is light between the Highway 20 bridge and Sycamore Ranch. Remember the water upstream of the bridge is closed until December 1st to protect spawning salmon and give them a "no pressure" environment. Speaking of the salmon, I saw very few redds, and the ones I did see had no occupants around. I've seen this before where salmon begin to build a redd only to abandon it and keep moving upstream to construct another. We'll see new redds on daily basis, but I think we will see a major drop in salmon returns this year, and the next upcoming four years. Why? First off, we'll see low returns from the effects of the drought and the low flows out of Englebright dam during that time. Secondly, the high water of 2017 occurred during a time when there were still eggs in the gravel that had not hatched yet. With large amounts of the bottom substrate moving downstream you can bet those eggs were lost. You can say the same thing to a lesser extent for 2019. We shall see in the years to come what transpires, and I'm no fisheries biologist with a truck full of data, but common sense tells me there will be an impact to an already sad "State of the Salmon".
The fishing for resident wild rainbows has been pretty good though, better than expected to be honest. The two rigs that worked best was a dry/dropper set up with a large yellow or orange Stimulator with a small flashy mayfly dropper about 24" below. My guests and I were surprised to see the Stimi get some attention with explosive top water eats, the trout most likely were taking it for a grasshopper. Your standard Valley River indo rig was really the best way to go, larger bug on top, with a smaller fly as a dropper. Adjusting the depth of the indicator and adding or subtracting weight will allow you to fine tune a run or riffle and be more successful. Effective flies were Red Copper Johns, Hogan's S&M and Military May (dark colors), eggs, and legs (rubber legged stones). Hatches? I saw very few adult aquatics out, maybe a random caddis, or a BWO flying by – That's it. Risers? A few "One and I'm done" here and there, nothing to make one fully commit to a dry fly rig while casting to targets (wishing for that though). Sine samples revealed lots of immature mayfly nymphs, midge larva, some Stub Wing stonefly nymphs, and the most prolific bug (as always) the free living caddis (Rhyacophila). I also saw quite a few fresh shucks of the Stub Wings on shoreline cobbles downstream of major riffles.
Now is the time I will be guiding on the Lower Yuba River, the stillwaters of Eastern Plumas County, and a the Truckee area – Yeah, I'm all over the place, but in a few months will be on the Yuba full time. There will be lots of Tours and Workshops scheduled for 2020 with fly clubs, Lost Coast Outfitters, and Baiocchi's Troutfitters so keep an eye on my Blog, or my News page on the website for upcoming dates and rates. My trips are all about education, sharing the knowledge, and teaching my guests the skills to be successful on their own. All incoming inquiries for drift trips will be referred to my buddy and fellow guide Brian Clemens. Brian is a really good dude to spend the day with and fishy as all get out. I hire him for my yearly Trinity River trip and he never disappoints. Which reminds me, only about a month before I'm floating with him – Can't wait!
There you have it, a real time and honest on the water report with firsthand information. Conditions will improve on a weekly basis once the river has more salmon in the system, and as we get deeper into the fall season. Don't forget about Yuba Fest 2019 October 12th, an event that revolves around conservation, education, and an appreciation for the Lower Yuba River. See you on the water among the cobblestones…