Lower Yuba River Fly Fishing Report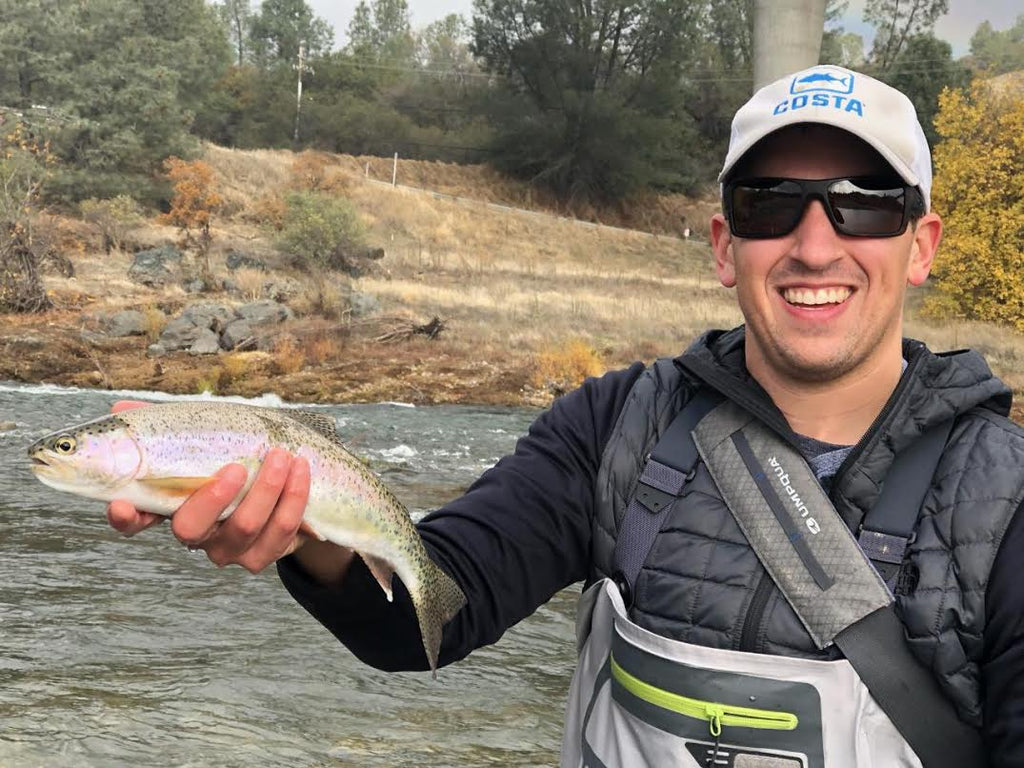 Jon Baiocchi Reports on 12.11.2019
Finally, the whirlwind of being extremely busy since last early spring has died down and settled into the winter rhythms. The last month has been mostly touring around to fly clubs and speaking, and I must say the Delta Fly Fishers Northern Sierra Stillwater Seminar was SO much fun! I'm hoping more clubs go with that program because of the overload of knowledge shared, and the value to those attending. It's a win/win for everyone involved!
It's nice to be back on the water, and during the winter season is when I really get to fish on my own time. Love it. The Lower Yuba River has been fishing well, but the same old story, you got to find where the fish are holding, and put in the work – which at times is not easy unless you have some Intel on specific locations. Boats are getting more numbers than walk and wade anglers due to the simple fact that they can cover more water. Walk and wade anglers have an advantage too, as they can study the runs and riffles longer, and dissect their surroundings for the clues being offered to them by Mother Nature – Bug and trout activity. Fishing pressure has been light. On the trips I made in the last week above the bridge I only saw one other angler, and nobody upstream of Separator Rock. I like that.
The flows…Good for both boats and walk and wade anglers, and currently back down to 1,380 cubes. A few spikes from Deer creek after the recent storms, but nothing alarming, just a good little flushing to add some color to the system. I've recorded some unusual flows over the past month on the Lower Yuba River, a few times the flows were totally shut off for a few hours? I don't get it, even if it was for maintenance, wouldn't that require input or a special permit from CDF&W without having a F&G code 5937 violation? Who knows…Trout still gotta eat though, that I know.
All types of techniques and rigs are working right now. Bobbers, swinging softies and streamers, tight line nymphing, dry/dropper rigs, and dry flies to rising fish. In the last week I have seen mostly inconsistent hatches, and hopefully we will get into the daily winter "Clockwork" appearances from the PMDs, BWOs, Brown Duns, and soon the Skwala Stonefly. Right now the Skwala nymphs are starting to stage next to the idle water downstream of major riffles. Not many now, but those numbers will be increasing in the next few months. For flies… stones, small dark flashy mayfly nymphs, worms, eggs (texture makes a difference), alevins (Al-uh-vins), even caddis pupa patterns too. Cover water and go somewhere else if you are not catching, but also don't leave fish to find fish – just figure the riddle out. I've hooked into a few toads out there but mostly smaller fish that might as well be F-18's with the afterburners on – Red hot!
Just a reminder that my first of many workshops will be on 1/11/2020 – The Dry Fly Workshop will cover equipment, flies, rigging, leader construction, techniques, tactics, and informative handouts, plus one on one guiding. Cost is $175. I've restructured my workshops to allow for more fishing, and one on one guiding interaction. Limiting the maximum amount of anglers to 4 also immensely helps students receive more in depth instruction. Email me at baiocchistroutfitters@yahoo.com to sign up, or give me a call at 530.228.0487. Book it, and learn to be more productive on the water!
I'm currently packing my fishing gear, snowboarding stuff, and all my tying equipment for an extended stay at Advanced CBC (Cat's Base Camp) in Colorado. It's going to be cold, but I'm looking forward to some serious fun and happy times from bent rods, to carving the groomers, and hopefully floating on some freshies. It's been a great year with lots of good surprises. I can't thank you all enough for the support you've shown to me. Dad would really be proud of me sharing the knowledge… I'm sure he knows. Wishing you all a Merry Christmas and a Happy New Year!!!