Northern Sierra Fly Fishing Report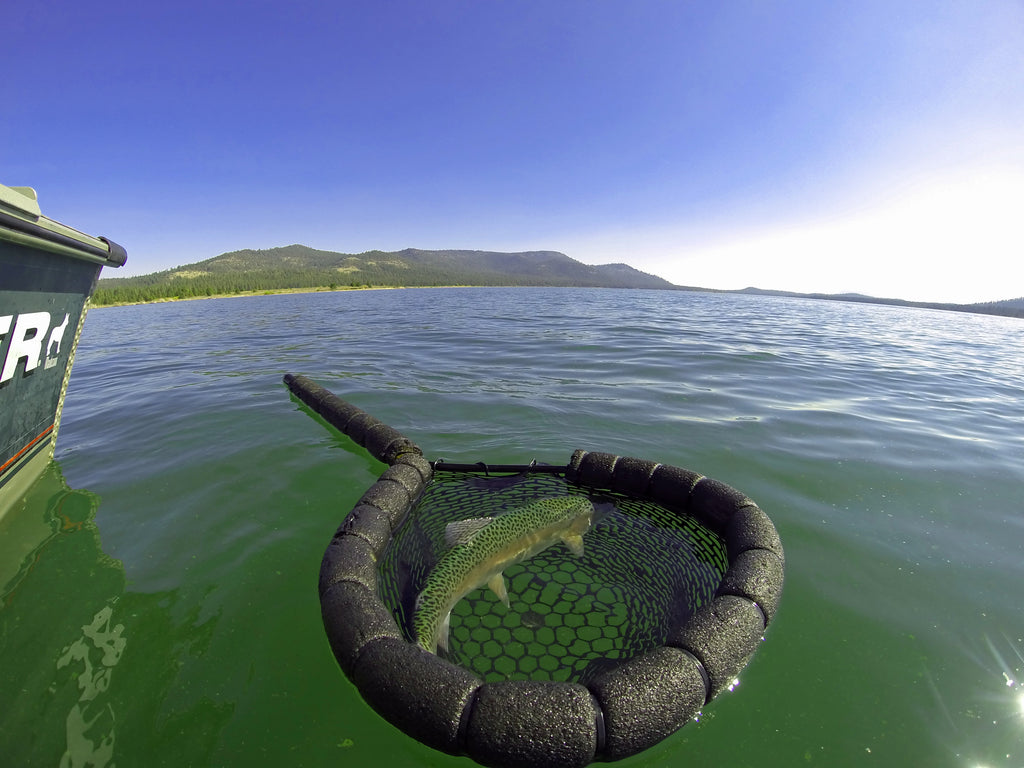 Jon Baiocchi Reports on 10.13.19
If you're a fly angler, October is the best month of the year for good fishing in the Northern Sierra, as well as across Nor Cal. Fall colors, and the seasons changing guard are a stark reminder that another year has flown past. It's been a great one while fishing/guiding on the water, and there are still plenty more good trips to be had. Nights have been cold, enough for me to make adjustments on where I'm camping out like up on a hill instead of down by the river or the lake. Cold air sinks to the bottom of any basin, so keep that in mind as well as if your camp will get early morning sunlight. The low air temps will increase a little bit in the upcoming days and during the daytime will be mild with near 70 degree autumn weather, with a noticeable shorter length of day light from sunrise to sunset. October is just plain special, I just wish it were stretched out over a three month period.
Lake Davis
Fishing has been great, the best it's been in a long time but still you got to put some work in and locate the fish. Water temps have dropped a tad to 52 degrees, and during the sunny days the shallows will be a little warmer so look for trout to be there as there is abundant food and comfortable conditions. Colder water can spread fish out and that's exactly what we are finding at Lake Davis. A higher lake level will do that too. I find that the lake is still a little too full for my liking which is currently at 80% of capacity. 65 to 70% is best for fly anglers who like to fish off the shoreline and prowl the peninsulas, points, and shoals. Fishing pressure has increased, but far from being crowded though. More conventional gear guys and gals then fly anglers.
I've been guiding the lake more this year than in the past 5 years and it's been a lot of fun. Because of such I've noticed some variables that really effect the fishing. Glassy conditions make for tougher fishing as the trout feel more vulnerable from threats above water – They're scared, they really are. Once there is a ripple on the water the bite will turn on. On last Wednesday's trip we had big wind with white caps and rollers and the catching was on fire. During such conditions there is plenty of cover for the fish just under the surface, with lots of food being dispersed in the drift. The lake turned over last week meaning that there is no thermocline of cold water on the bottom with warmer water in the top column. It's all mixed together with an up welling of nutrients from the bottom giving the water a green color with visible bio matter. The more water you cover, the better your catch rate will be, and when you do find a few stay put and fish that area hard.
Stripping flies has been way more effective than the bobber whether it's out in open water, or on the bank. Jay Fair stripping flies, wiggle tails, and wooley nymphs just keep producing in the typical fall colors we love. Burnt orange, rust, fiery brown, black, and especially red are serious money. Some days a faster strip is better than a slow one and it's best to experiment until you find the speed and action preferred by the fish for that day. The rainbows are showing more girth and bigger shoulders in the past few weeks which are proof they are eating well and bulking up for winter. A day off for me today, then I'm back up the hill for more trips. It's been cool meeting new people at the dock who have given me praise about my website, blog, and reports. I really do care about sharing all things fly fishing and making sure my fellow anglers and guests are having a good time at Lake Davis, and all over the region.
Middle Fork Feather River
Conditions have changed rapidly in the last month that has affected the bite and hatches, namely colder water and air temps. I've been doing a lot of trips here as well and my guests and I have only seen one other angler, and it turns out he was a friend of a friend. The Chico connection is and always will be a big part of my youth while growing up and fly fishing in the town of Paradise. Water temps in the morning are at 50 degrees and the fishing is slow. Sleep in, eat a good wholesome breakfast, and get on the water around 11am when the water has warmed up. There are good hatches occurring in the afternoon with rising fish. BWOs and Mahogany duns (and spinners too) are the most prolific, and the BWO spinner fall occurs much later now and it is not as significant as the weeks prior. Caddis are still out including the false October Caddis and a few small species, I didn't see one true October Caddis though in the last few trips even though I'm finding fresh shucks on the rocks. Northern California Tight Line Nymphing is the way to go, and with lower water levels you can effectively cover all the pools, pockets, and runs. I've really perfected my teaching skills over the decades of guiding and I can teach anyone how to tight line and be effective in a very short time. The rainbows are healthy and very colorful right now, yet mostly small, and 100% wild. Two things stand out this time of year on the Middle Fork Feather River. Solitude and blazing fall colors. Leave the crowds behind, and take a hike down the tracks, it'll make your day that much better. See you out there…