Northern California Fly Fishing Report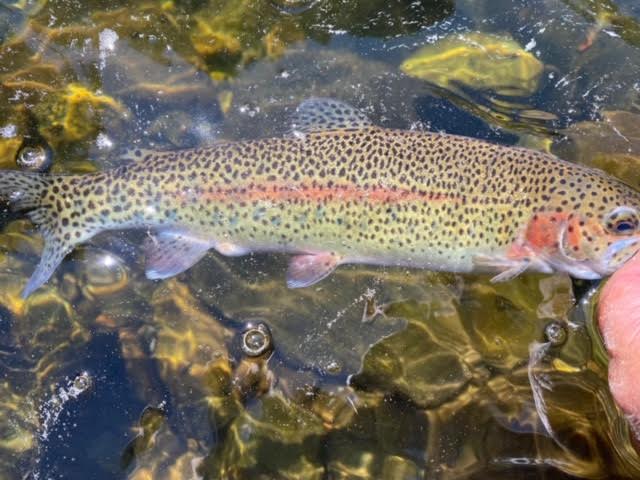 Dave Neal Reports On 6.8.20
The time is right, right now… you outta be fishing or planning a fishing trip
in the immediate future!

Everything is firing in Northern California. Flows on all the rivers and smaller
streams are either in or near prime-time range. The weather is classic CA
right now - it has the potential to be warm/hot (wet wade) or it may also
rain (thundershowers). We can experience temps from 95 in the valley to
70's in the Shasta region or Intermountain region. Be prepared for anything
and adjust your clothing as needed.

I've been fishing all over these past two weeks from the Lower Sac to Fall
River to the Pit River and Upper Sac. Variety is the spice, baby.
You might experience the summer pattern developing where best fishing is
early and late in the day. The days are LONG right now with first light
before 6am and dark after 9pm… we cannot expect the fish to chow all day
long and they don't. Fish when the bugs are active and when the bugs
ain't… just chill out, read a book, explore or take a nap when the river is
quiet. Evenings are always a good bet and there is no fly better than the dry
fly.

When it comes to fly patterns this time of year stick with the usual
suspects: PMD's, golden stones, salmonflies, and especially the little yellow
stones which are everywhere, tan caddis and basic midges. Typically, we
will see these hatches begin first during springtime on the Lower Sac and
then work their way upriver into the Upper Sac, McCloud, Pit, etc, as we
move into early summer.

Everyone has their favorite fly patterns but my go-to box right now consists
of: nine different variations of the Pheasant Tail nymph #12-16 from soft
hackle versions to BH and non-BH and flash to no flash, etc. Yvon Chounaird
is right…LOL. You can fish this fly exclusively forever. Other than that it's
Hogan's S&M or Lance's XMay, copper CJ's, RL in brown, yellow and blk,


Fox's Poopah!, Bird's nests, Mercer's Poxyback PMD… I like all these
patterns in Tungsten bead versions, and some flashy too.
For dry flies it's a Parachute Adams #12 all day long!! Mercer's Missing Link
in every color and size, some parachute yellow Sally stones (with the red
butt) and yellow and orange Kauffman's Stimulator, big foam Salmonfly
patterns just in case and some big drake patterns on the rainy days.
Don't forget your Dry Shake powder, wading staff, cleats in your boots,
stash away Gore-Tex, water filter, and Buff.

I have a few days open to book during end of June and early July. In the
sage advice of the late, Bill Lowe… "Stop messin' get a lesson" If you want
get a tune-up and a clinic on effective techniques and strategies in order to
confidently hook trout in our Nor Cal waters and beyond.
View my availability calendar online at
www.ReelAdventuresGuideService.com