Lower Yuba Fly Fishing Report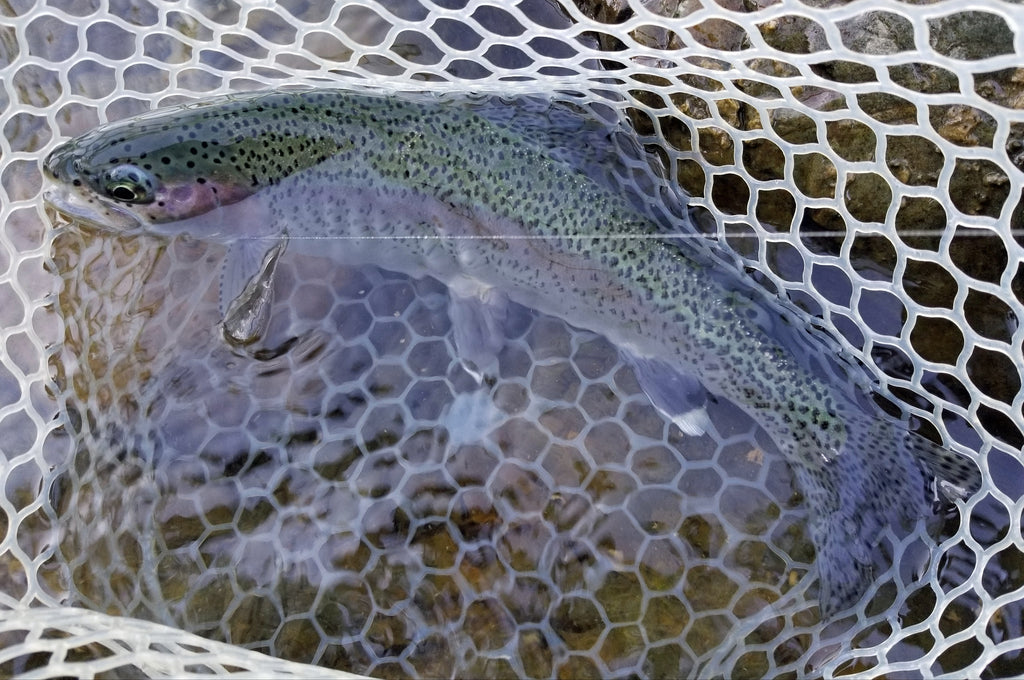 Jon Baiocchi Reports on 1.11.2020
It's been fun fishing on the Lower Yuba River the past couple of weeks. I really enjoy sharing the rhythms of the river with my guests and improving their skill set. My approach to guiding the Lower Yuba River is so much different as it is from a walk and wade perspective, where deciphering hatches and the clues that Mother Nature provides to usable information for the common fly angler. Reading water, proper presentations, casting, the best access, river history, local flora and fauna, flies, fish handling, the best flows, hook sets, fighting fish, and special leader formulas for every application known. I take pride in my trips, and not once in the last 23 years of guiding have I woke up at 4am and said "I don't want to go to work today". I really do love it.
Flows have been stable, right around 1,370 cubes, which is good as the trout can set up some long term homes and feeding lanes. Fishing pressure has increased, and some days are downright silly. I see way too many anglers racing upstream to try and beat the next guy, when they are passing up some really good water. All types of rigs are working right now but if want to play the dry fly game, you can take your time getting to the river 'cause those heads and rise forms don't even appear until after 12pm. Effective pattersn for nymph rigs include brown/gold rubber leg stones, red copper johns, Hogan's S&M and Military May in BWO and PMD colors, and with this week's weather and rising flows – worms in flesh, pink, and flesh colors. Swing salmon fingerlings and black egg sucking leeches near the head of runs.
So, what's on the surface menu? BWOs, PMDs, Brown Duns, and Skwala stones. In the last week I've been observing more with my guests and helping them identify when a hatch is about to go off (it's all about the song birds), the different species of mayflies, and trout behavior. The mayfly hatches have been really short, about 20 to 30 minutes, a little longer on cooler moist days as it takes longer for the mayflies to dry their wings from emergence and be able to fly off – Trout like that, they can take their time eating. One key to being more successful is to actually watch what specie of mayfly an individual trout is eating.  With 4 different aquatic insects to choose from, it varies. Here is an example; last Sunday my guest and I were fishing multiple foam line/feeding lanes in an area, and there were about eight different fish rising consistently. We were close, like 10 feet away so you could see every detail – To be honest it was incredible! Most of the fish were eating BWOs, but a few ignored them and would only take PMDs. There were Skwalas and a few Brown Duns circulating in a Merry-Go-Round foam patch, and the fish ignored both of them. Just plain weird. Trout behavior never ceases to amaze me. A classic "Masking Hatch" was happening, where other aquatic insects mask what most of the trout are really eating. To complicate matters even more, they can switch to a different preferred food item at any given moment. This is what trout fishing is all about – Solving the ever changing riddle.
Not many Skwalas out yesterday as it was too cold and not a lot of abundant sunshine. They chose to hide out under the cobblestones until a better day. They sure do like it warm. I'm amazed at how many anglers do not see them crawling around or in the drift. But then again you need to be on the water often to pick up the subtle clues and train your eyes to be able to pick up on those particular variances.
When it comes to that, I might as well be an Osprey. I just see the surrounding conditions of such so clearly – it's all about putting in time on the water, and I'm very fortunate to be able to have those skills, and the time/job to hone them. I want to help other anglers though, and why I created affordable workshops to help increase a fly angler's skill set. On February 12th I will have a Skwala Workshop on the Lower Yuba River. You'll learn identification from male to female, habitat for the nymph and the adult, where and when they hatch, plus other rivers that hold good populations of them, emergence behavior, egg laying behavior, trout response to the hatch, recommended equipment, leader formulas, flies, presentations, and a highly informative handout that covers everything within the workshop. $150 per angler, limited to 4.  You'll walk away after the workshop with a clearer understanding of the Skwala hatch, and how to be more successful when plying the water. Shoot me an email if you want in: baiocchistroutfitters@yahoo.com I have other upcoming workshops in the mix, so keep tabs on my blog:  https://jonbaiocchiflyfishingnews.blogspot.com/ or on my website's news page: http://www.baiocchistroutfitters.com/fly-fishing-news/
It looks like we are getting some real precipitation this week, with rain, snow, and below average temperatures. We'll see what transpires with the flows, and just have to wait and see how much falls from the sky. Feel free to contact me with questions, it's that time of year when I have a little more time to answer emails (ha ha! up at 3am this morning to do so and get caught up!). Put the resource first, give back, help a newbie, and I'll see you on the water…