Lake Davis Fly Fishing Report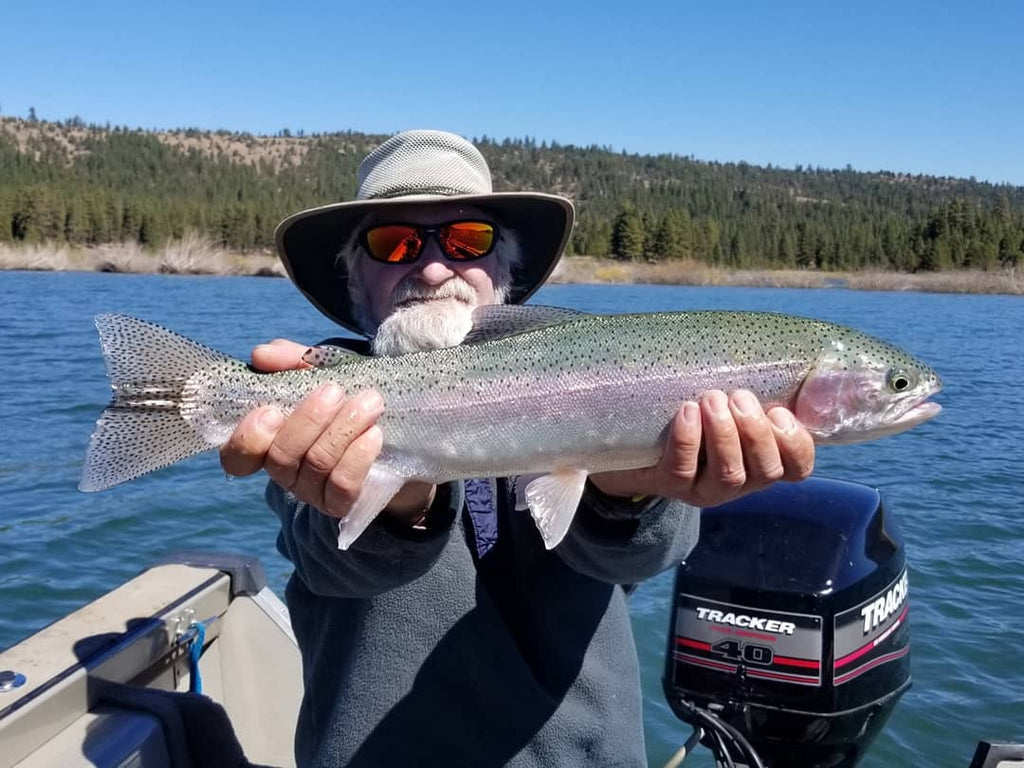 Jon Baiocchi Reports on 9.25.2019
It seems the fishing at Lake Davis is getting back to near what it once was in the past. It's been at least 5 years or more since fly anglers have had catch rates this good. It all comes down to the California Department of Fish & Wildlife planting more fish of catchable size. There were 3 plants of trout in late May and June including Eagle Lake Rainbows, and Brown trout, both sterile and fertile. Last Monday another plant of 4,000 trout, one pound per fish, Louisiana strain rainbows entered the lake. More fish in the lake makes a big difference not just for the fishing, but for the local economy and businesses that rely on such. Current water temperatures are at 58 degrees and holding, we will see another good drop on the thermometer as a cold snap will take hold over the weekend with a chance for snow. Fishing pressure is extremely light and Lake Davis is pretty much a ghost town. 10 years ago, the Honker Cove boat ramp parking lot would be full, this past week there were only 2 to 6 vehicles with trailers parked there. The willows, cottonwoods, and aspens are showing signs of fall colors to come, look for the peak about the 3rd week of October. It's so gorgeous at the lake when the autumn glow is going off!
You'll find most of the trout near the top water column (2 to 10 feet down) in deeper water with a depth of 12 to 24 feet, and as of late they are starting to come into the shallows. With so many plants of various sized trout you will find rainbows from 9 to 26". We did finally manage to catch a brown and it was right round 11" and clean. The middle of the lake to the northern end on the west side seems to be the best right now. The fish are scattered and in small pods that move continuously day to day, and during the day, where you found them an hour ago may change so move around until you either see rise forms, or are getting hook ups. A size #14 blood midge is hatching from about 9am to noon, mixed with sparse Callibaetis mayflies, and the occasional Hex. Your standard Lake Davis patterns are all working like Sheep Creek Specials, Flashback Pheasant Tails, smaller Damsel nymphs, Hare's Ears, and Albino Winos. Color does make a difference with wiggle tails, buggers, and leeches, and the colors of the Fall season include burnt orange, rust, fiery brown, and bad ass black. Also use strong hooks as a few of the bigger athletes have bent the points outward, 3x heavy if you can find them. Stripping presentations seem to be working better than indicators and the retrieve will vary day to day. This past week a faster strip with the leech patterns seem to work the best. Keep in mind your favorite cove may be choked out with weeds, which is good in the way of a profuse bio mass of aquatic insects, but poor for keeping your fly clean during an honest presentation. I can't recall the last time I saw weeds growing up to the surface in 20 feet of water. The fishing will only get better from here on out, and improving on a weekly basis. I only have two days left that are available for October, and a few in November (I'm hoping for an Indian summer well into November). If you have an inclination to get out on the lake with me, you know where you can find me:
baiocchistroutfitters@yahoo.com
/ 530 228 0487. See you on the fertile waters of the Lost Sierra.